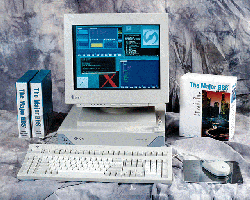 The Major BBS for UNIX was an effort to bring the technology and features of DOS-based bulletin board systems to the Unix environment.
The Unix version started as an experiment that resulted in a commercial product. It is believed these pages are the only known remaining content outlining the features of the UNIX version of The Major BBS and Worldgroup. If you've found other locations please mail me (kmaier@jkaugust.com) so I can add the references here.
HISTORY
Mahesh Neelakanta and Ken Maier were interested in electronic bulletin boards from the early days of college. While attending Florida Atlantic University, Mahesh, Ken and another student formed Cybernet, an electronic bulletin board system for the Department of Computer Science. Cybernet was a text-based BBS package (Waffle) running on one of the departments SunOS systems. It had basic messaging, file transfer capability, USENET support and other Internet features. It's launch saw 10 user registrations -- within a year there were over 10,000. The text-only interface lacked features and in 1992 there was few inexpensive alternatives.
Late 1994 Mahesh and Ken came in contact with a friend that worked at Galacticomm. Galacticomm's Major BBS was written in C and the prospects of porting this code to Unix peaked our interest. We arranged a meeting with Bert Love to discuss our idea and walked away with the development kit (for DOS) and a lot of enthusiasm.
We returned several weeks later to demonstrate Mahesh's hard work. A dozen Galacticomm employees watched as a DOS product supported Internet email, Telnet, FTP and shell support for each user. After that meeting, the rest was history -- a Unix division was soon born.
PRODUCT FEATURES
Many features found in advanced mail clients were available. Supported both local and Internet mail with seamless integration to sendmail. Could host USENET forums for users. (more...)
File management system with multi-level access control. Support for NFS mounted partitions. Contained built-in search facility for finding files. (more...)
Query users on topics and summarize results. Graphical management tool to build polls or questionnaires. (more...)
Integrated network support provided telnet and FTP capability from any prompt within the system. (more...)
Management, Security and Accounting
Multi-level security built into the system for complete user control. Monitoring and management interface provides a complete overview and instant access to the system. (more...)
User Defined Applications (UDAs)
"Plug-in" feature to easily integrate external applications into the BBS interface. A very powerful way to extend the functionality of the system (more...)
Purchase additional commercial modules to build community and features. Development kit provides ability to customize the system. (more...)
Teleconference module for live chatting, online user registry and built-in graphical client extended the system. (more...)